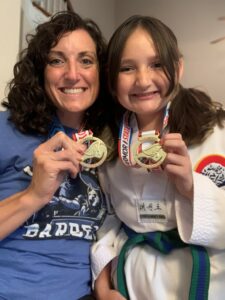 The 2022 BODYARMOR State Games are officially a wrap and we are exited to showcase some of the amazing athletes we had participate this year. One of the unique features of the Games is the wide variety of sports offered. This year we hosted five sports under one roof at the Raleigh Convention Center which created the perfect opportunity for Kendra Danzer and her daughter Willow to both participate in their respective sports at the same time. Not only did they participate but both walked away with gold medals! Check out this Q&A to learn more about them.
How long have you been participating in your sport?
Kendra: I started competing in Strongman in 2019. When COVID hit there was not a lot of competition so the BODYARMOR State Game was just my 5th time competing but I have done a lot of training.
Willow: I have been participating in Taekwondo for 1 and a half years.  
What's your favorite part of your sport?
Kendra: My favorite part about the Strongman is how versatile the groups are with all the moving events. You never know how the competition will play out because people are stronger in certain events. Someone can win for a moving event but not be very good in a stand still event.
Willow: My favorite part about Taekwondo is learning new kicks and learning terms/vocabulary.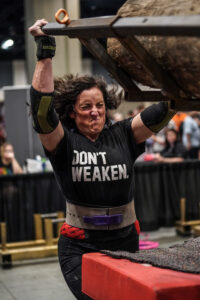 What is one thing interesting about your sport?
Kendra: The community of athletes is a great aspect of this Strongman.  It is not a sport that gets a lot of attention but everyone comes together and is supportive. The training is long and hard. For example we train 2.5 hours, 4 times a week, a week before an event. 
Willow: I love the way Taekwondo do different things each week. My school is very different than other schools in that we train 3 times a week but we have 2 regular classes where you learn kicks and vocabulary. 
Was this your first time participating in the BODYARMOR State Games? Why did you decide to participate?
Kendra: This was my first time participating in the BODYARMOR State Games. James told me about it and my daughter was able to compete in Taekwondo at the same venue so the whole family was there. 
Willow: This was my first time participating in BODYARMOR State Games. It was my second competition overall and I want to do more to become better and win many more gold medals. 
How was your experience at this year's event?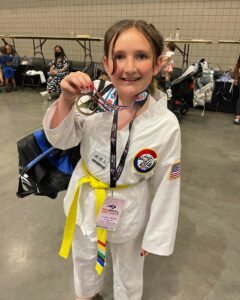 Kendra: It was a great event. I really loved how my event was right next to my daughter's event so I could watch her during my down time.
Willow: It was a great experience! I got nervous when I found out who I was competing against but I ended up winning so it was really cool!
Are you looking forward to participating again next year?
Kendra: Yes! If there is an opportunity, I will be there!
Willow: Yes! I would love to because I want to get better and I want to try more parts of Taekwondo.