We've got another Featured Athlete for you – Jacob Summers. Jacob, who participated in the 2022 BODYARMOR State Games Winter Roundnet Tournament, is a 17 year old Roundnet player (aka Spikeball) from Raleigh. Jacob currently holds the title for the youngest premier (the level before you reach pro) player in the world. Check out this Q&A with Jacob!
How did you get into the sport?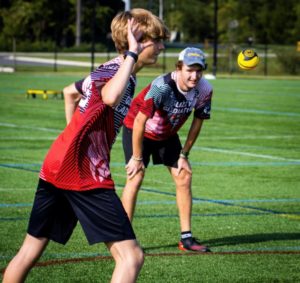 I started playing about 4 years ago, when I was 13 years old. The first time I ever played was at a church event, where my youth pastor showed me and my friends how to play.
Why do you love it?
I love playing because it gives you the opportunity to meet new people with common interests. Roundnet is a smaller sport, so you get to know people quickly. I also love it because it is fun. My whole family even plays sometimes.
What is something cool about your sport?
The whole thing is cool, the sport itself is just interesting. When I first started out it was weird, because it's unknown, but I quickly fell in love. It is also cool that you can play the sport anywhere at any time. My friends and I go out to tennis courts, gyms, random squares of grass just to play.
How did you enjoy the BODYARMOR State Games Winter Tournament?
I had a lot of fun! My team " The Glizzy Gladiators" enjoyed playing together and my father helped orchestrate the tournament.
Why should others try Roundnet?
Honestly it is just a great way to be active, make friends, and have fun. You can pick it up anywhere, and only need four people. I actually have a Youtube channel (https://youtube.com/channel/UCHZ3TN1qEfuW90q0qusqG7A) that everyone should check out about my experiences playing.
What is your goal for playing Roundnet?
Although I don't know if I am going to college yet, I hope to go pro one day!