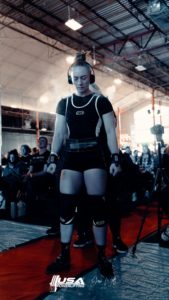 It's time for another featured athlete to help us showcase one of our newest sport additions – Powerlifting! Natalie Richards, who graduated from North Carolina State University in 2019, is currently a 23 year old professional powerlifter, 3X American Record Holder, and a Nutrition coach.
Q&A with Natalie
When did you start powerlifting?
I started training in 2018 when I was still in college and had my first meet in 2019. Before I started powerlifting, I ran track for 7 years and 1 year in college.
How many meets have you done?
I have done 5 meets in total with my first being "Fall Fest" in 2019.
Who is your role model?
I would have to say my two role models are Sam Calhoun and Megan Scanlon, both are record holding women powerlifters. I admire these two women because I love watching really strong women prosper. I actually got the opportunity to meet Sam Calhoun at a meet I did in Virginia.
Do you plan on participating in next year's BODYARMOR State Games?
I plan on participating this year and I'm looking forward to it!
What's your greatest memory from your powerlifting career?
My greatest memory would definitely have to be receiving my first national record, and having the opportunity to compete at the Virginia pros.
What is your favorite part about powerlifting?
My favorite part is getting stronger and being strong.
What is your favorite quote?
"Get better today"