Jump Rope is joining the BODYARMOR State Games sport line-up in 2022 so we thought it was only fitting to pick a competitive jump roper as one of our Featured Athletes. Check out this Q&A with Ellie Kim, proud member of the Super Skippers, the YMA of the Triangle's competition youth jump rope team.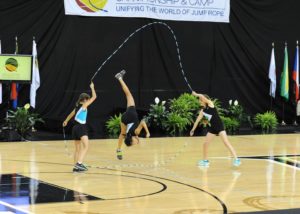 Q&A with Ellie:
Q: When did you start jumping rope?
Ellie: I first involved myself in the sport of jump rope when I was 10 years old.
Q: How did you get into jump roping?
Ellie: I got into the sport of jump rope when my mom signed me up for the YMCA Super Skippers' summer jump rope camp in 5th grade. I fell in love with the creativity and innovation that the sport portrayed. Additionally, the environment was incredibly welcoming and supportive, to a degree that no other sport portrayed so I wanted to get involved and try it out immediately!
Q: Have you done any competitions?
Ellie: Ever since I first joined the sport, I've been doing dozens of competitions ranging from regionals competitions at UNC Chapel Hill to global competitions. One of my most memorable jump rope competitions was from World Jump Rope 2019 which took place in Oslofjord, Norway. More than receiving medals and performing my jump rope routings, I made incredible relationships with jump ropers from all over the world! I also cherish our regional, more local competitions because I get to bond with my team and cheer on younger jump ropers.
Q: Who's your role model?
Ellie: In the sport, my role model would most definitely be Graham Booth. More than just an incredible jump roper, he has utilized his athletic and educational knowledge to establish organizations such as Carolina Jump Rope where he promotes collegiate level jump rope and nutrition within local elementary schools. The way in which he consolidates healthy living and the sport of jump rope inspires me to do the same.
Q: Are you excited about the BODYARMOR State Games adding jump rope?
Ellie: I'm super excited! Jump rope is not the most well acknowledge sport and I believe including it in the BODYARMOR State Games is an incredible way to advocate for the sport and get more people involved in such an amazing activity.
Q: Do you plan on participating in next year's BODYARMOR State Games?
Ellie: I'm not sure right now but it is certainly something I would love to do! I hope to see lots of people at the competition!