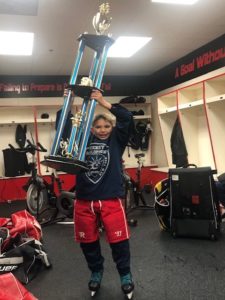 This month's featured athlete is Chase Sams! Chase is a 9-year-old ice hockey player from Indian Trail, NC and is currently a member of the CJC Elite 10u team. He first began playing ice hockey in 2014 when he was just three years old, and he has participated in multiple Powerade State Games competitions. According to Chase, "Powerade State Games has always been fun to play in with my friends and against tough competition." Chase is a stand-out athlete who is described by his coaches and family as a great teammate. In his own words, "I cheer for my teammates and encourage them when they make a mistake, and I lead by example. I listen to my coaches and do what is asked of me!" Chase plans to continue his hockey career and has hopes of pursing a career as a doctor some day!
Q&A with Chase:
How was has your experience been participating in the Powerade State Games?
Our experience in the Powerade State Games has been awesome! We get to play competitive teams in great facilities and our 10U team even took home the gold one year.
Favorite Powerade State Games Memory?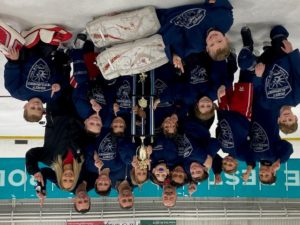 Favorite Powerade State Games memory was winning the 10U tournament with my teammates.
Academic/extracurricular club or organization involvement?
Extracurricular activities include Academy Soccer and Ice Hockey.
Favorite class/subject?
His favorite class is Science!
Favorite professional team and/or athlete?
Chase's favorite professional athlete is Brent Burns of the San Jose Sharks.