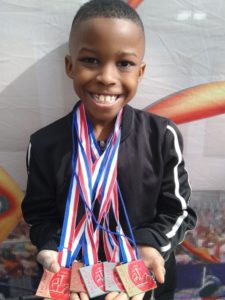 This month's featured athlete is PaHeru Nubia-Ra! PaHeru is 9 years old and is a USA Gymnastics Level 5, Division 1 men's gymnast, as well as a Red Belt in the U.S. Taekwondo Center system. PaHeru's journey has not always been easy, and he has overcome many obstacles to compete at the high level which he does today. His mother says, "Born 2 months early, his lungs were underdeveloped and he experienced many developmental delays. At the age of 3, he began recreational gymnastics. However, since 2018, PaHeru has been training as a competitive men's gymnast." PaHeru is a skilled gymnast and has won numerous medals at USAG sanctioned events, both in-state and out-of-state. Based on his performance at the 2018 USAG North Carolina Men's Gymnastics State Competition, PaHeru was selected to the 2019-2020 USAG North Carolina Men's Gymnastics Elite Team, and additionally, he was selected by his coaches as Countryside Gymnastics' "2019 Rookie Male Gymnast of the Year." At the age of 6, PaHeru also began training with Master Dae Kim at the US Taekwondo Center in the sport of Taekwondo. He has advanced to a current Red Belt and has earned medals for Best Poomsae/Form, Best Kick, and Best Breaking. When speaking on his accomplishments, PaHeru's mother states, "Goal setting, consistent practice, and persistence have greatly contributed to his success!"
Q&A with PaHeru: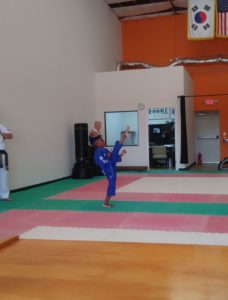 How was your experience Participating in the Powerade State Games?
PaHeru was planning to participate in this year's Powerade State Games and was disappointed when the games had to be postponed due to COVID-19. This event was one of a few that he was registered to compete in that ultimately weren't able to take place. He's looking forward to competing in next year's Powerade State Games Competition!
Academic/extracurricular club or organization involvement?
PaHeru was a member of Comic Book Club this past year where he learned to draw his favorite comic book characters.
Favorite class/subject?
His favorite class is Mathematics because he gets to manipulate numbers and that's fun!
Favorite professional team and/or athlete?
PaHeru's favorite professional athlete is Simon Biles because she's an awesome gymnast.