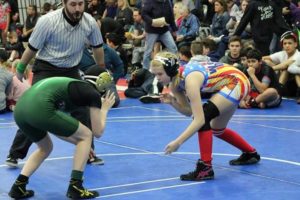 This month's featured athlete is Kahlen Kuddie! Kahlen is 13 years old and a rising 8th grader at Kannapolis Middle School. Six years ago, she took the mat for the first time and fell in love with wrestling while attending a tryout for her brother. Kahlen's mom says, "I never imagined my daughter falling in love with the sport, but the sparkle in her eye when she gets to wrestle is breathtaking. She has had to struggle to overcome, as she has consistently had to wrestle boys only in North Carolina for the most part." Though she is constantly competing in tough brackets, it has never stopped her from taking the mat and working hard. Kahlen's hard work is clearly paying off! This past year, she was a starter for her middle school team and came away with four wins on the season. Kahlen also travels frequently to other states to wrestle in all-girls tournaments, where she has shown great improvement over the past few years. Kahlen and her brother are still competing together often, and their mom says, "They are amazing cheerleaders for each other, as you will almost always find them in the corner for one another's matches." In addition to starting for her middle school wrestling team, Kahlen is also a member of the school's cross-country team!
Q&A with Kahlen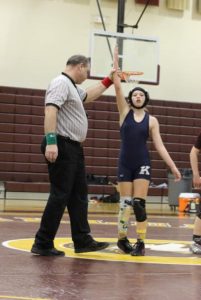 How was your experience Participating in the Powerade State Games?
Last year was our first year. We were so excited about the girls' division but when there weren't enough girls signed up, we took it in stride and went to work wrestling the boys.
Favorite Powerade State Games memory?
Just being surrounded with amazing athletes.
Academic/extracurricular club or organization involvement?
Kahlen wrestles for Kannapolis Middle School and is a member of both K-Town Wrestling Club and Bethel Vikings Wrestling Club.
Favorite class/subject?
ELA, Art and History. She is also an honors student and member of the Junior National Honors Society!
Favorite professional team and/or athlete?
Team USA Women's Wrestling Team.