While we continue to prepare for this summer's Powerade State Games, we would like to recognize the Wake County Basketball Association 2025 team (WCBA 2025) as our next featured profile! We chatted with Head Coach, Brad Deifer, to discuss the team's makeup, history, outlook & how the team has kept training and connected. We look forward to seeing WCBA 2025 back out on the court this summer at our Youth Basketball Tournament challenging for the gold!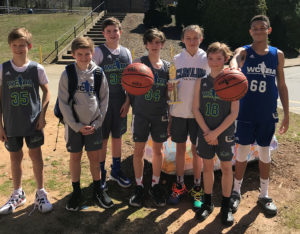 "This group of kids, all from the Raleigh area, have been playing together in the same Rec League at a very high end since they were in the 2nd grade! We play Big Shots, AAU, and major national events up and down the East Coast, but always make sure to have the Powerade State Games on the schedule. WCBA 2025 have competed with the same core group in the Powerade State Games for the past four consecutive years (2015-19). We come back every year to play, and love it! The competition is great, it's always well run, and the overall atmosphere of a "State Games" gives the kids a great sense of meaningfulness."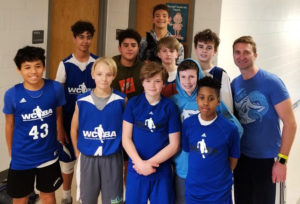 WCBA 2025 consists of a National Travel Blue team and a developmental white team. In 2019, they elected to play with a combined squad at the Powerade State Games – same core, but a few more reserves. In pool play, WCBA were victorious in their first game 66-43 against the Washington County All-Stars. They lost their second game, a defensive matchup, to the Greensboro Warriors 47-36. On Sunday, WCBA won their bracket game in a close contest against Team Hope Black, 54-48. WCBA fell 58-50 in a hard-fought semi-final against the Garner Road Bulldogs (the eventual tournament champions). WCBA 2025 finished the Powerade State Games 6th Grade Age Bracket as the co-bronze medalists with Team Charlotte!
"While many other teams have a revolving door of kids during the season and year-to-year, our core group has stayed together. When we have our top seven kids we can play with anyone in the country! We have never looked like the best athletes on the floor, but we have beaten so many teams that have come into a game expecting to win purely based on physical appearance. This group is exactly what basketball is supposed to do for kids; create friends, have fun and develop them into quality high school players." In total, the core group of WCBA 2025 have won over 120 games and 45+ tournaments since they started playing together!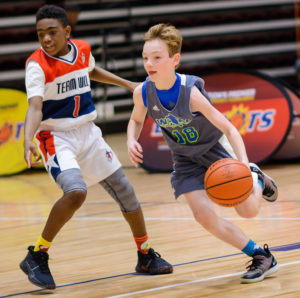 "We have developed this group to play basketball the right way, which is for each other as a collective team and not just as a group of individuals. Their Basketball IQ's are very high, as they have played against some of top national teams in the country over the last three years. They already compete with the best teams in their grade and most of them will enter their high school teams with more experience to draw from than 90 percent of the others. These are the kind of players that will keep you in any game, on any level. You will see them impacting high school games in the next few years! I coach at Ravenscroft school and am confident that each one of the kids will make whatever High School Coach they play for very happy!"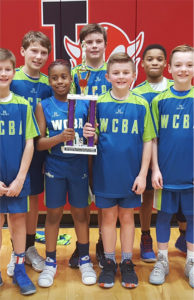 WCBA 2025 started off the 2020 season strong by winning their first two events. The Blue team added two "Big's" to the core group and was looking forward to playing against some of the best 2025 teams in country. The Powerade State Games this summer was on the schedule, with the gold medal on the radar!
"WCBA 2025 will continue to play together, grow, and win many, many games. However, what I am most proud of is the relationships they have developed among one another and the growth they have made as a team. We always have people complementing them on how they play. The team motto is "Hardwork…Together" and all players have exemplified that. Their loyalty to our program at WCBA2025 and the loyalty to each other truly makes them special. What they have achieved as basically a Rec League All-Star team that came together is to be commended, as is that fact that they have remained loyal and true together as a group. Team members include: Elijah Deifer, Gordie Ballas, Mills Bason, Brock Hoggard, Web Borgdon, Adam Vessel, Lance SImpkins, Lucas Mullaney, Samuel Erwin, Darron Ward, Colin Henderson, Cole Pakkalla, Gavin, and Tucker LaFon!"
"The kids are chomping at the bit to get back on the court. We currently have them all training at home solo, and I am ready to get them rolling at the "all clear" once it is safe and permitted to resume practices. The kids are all good friends and stay in touch via group text and of course on their PS4 & Xbox consoles playing NBA 2K & other games."
The team is on Twitter and Instagram and can be found at the handles @WCBA2025 & @WakeCountyHoops.