Our next featured athlete is Kalee Wiltshire, a 3-year varsity soccer player from North Brunswick High School. The school is located in the southeast portion of the state in Leland, near Wilmington. The Scorpions made the 3A playoffs last year and were off to a 2-0 start on the spring season with high hopes for the 2020 campaign!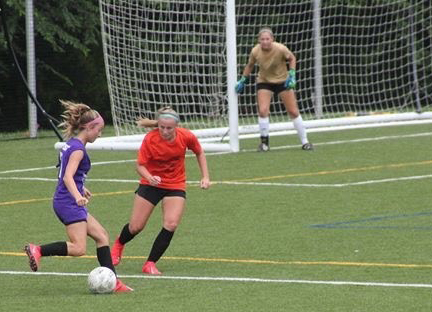 With the ability to play both mid-field and defense, Kalee is a versatile player who will move around the pitch in order to best accommodate the team's needs. Kalee was selected as the captain of both North Brunswick High School and her club team last season! This is quite the strong testament to her leadership traits and value as a teammate on and off the field, especially to be named a team captain as a sophomore.
Kalee participated in the Powerade State Games last summer as a member of the East Regional Team. The team had a solid weekend of play, capturing the Gold medal when all was said and done! Kalee was teammates with 19 other girls representing 12 different high schools from various counties throughout the Eastern portion of the state.
Kalee has been playing soccer since the age of three and she will be continuing to play well into her twenties. While she still has the rest of 2020 and her senior year to go at New Brunswick High School, Kalee is already verbally committed to play soccer for Lees-McRae College starting Fall 2021!
Q&A with Kalee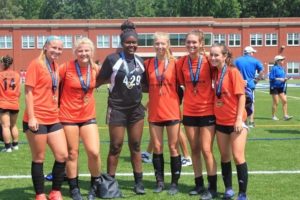 Please describe your previous experiences in the Powerade State Games.
Last year was the first opportunity for me to participate in the Powerade State Games. It was an awesome experience – meeting and playing with new people! I also got the chance to play with players I had not played with since elementary school. Despite limited practice time we were able to come together as a team and win the gold medal.
What are your lasting impressions of the Powerade State Games?
The Powerade State Games is a unique opportunity for High School players who are interested in playing at the next level. Unlike other college showcases I have participated in, there is only one game being played at a time. This gives college coaches the opportunity to really focus in on specific athletes. I received several texts and emails shortly after the tournament from coaches interested in recruiting me. Overall, it is an experience that I cherish and hope to get one more opportunity to play this summer.
Thoughts on your regional team makeup last June. How was playing with girls from rival schools that you may not know? How much playing time did you receive?
I really enjoyed the opportunity to play with rival players from my conference. I feel my coach did a good job of giving everyone playing time and helping us come together as a team.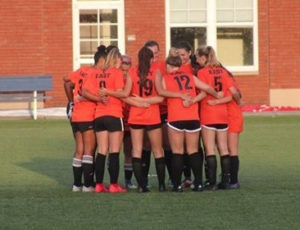 Feedback on pre-game & coaching:
Before each game the starters got together in the middle of the field and hyped each other up. Coach McGill kept us motivated and confident throughout the tournament.
High School clubs and organizational involvement:
I am a member of National Honor Society, Key Club, and I volunteer for Lil Hammers/YMCA youth soccer.
Favorite school subject, class, or teacher?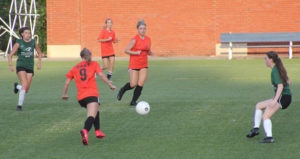 My favorite school subject is science therefore my favorite class is Biology.
Favorite pro team?
The US Women 's National team
Favorite soccer player?
Julie Ertz