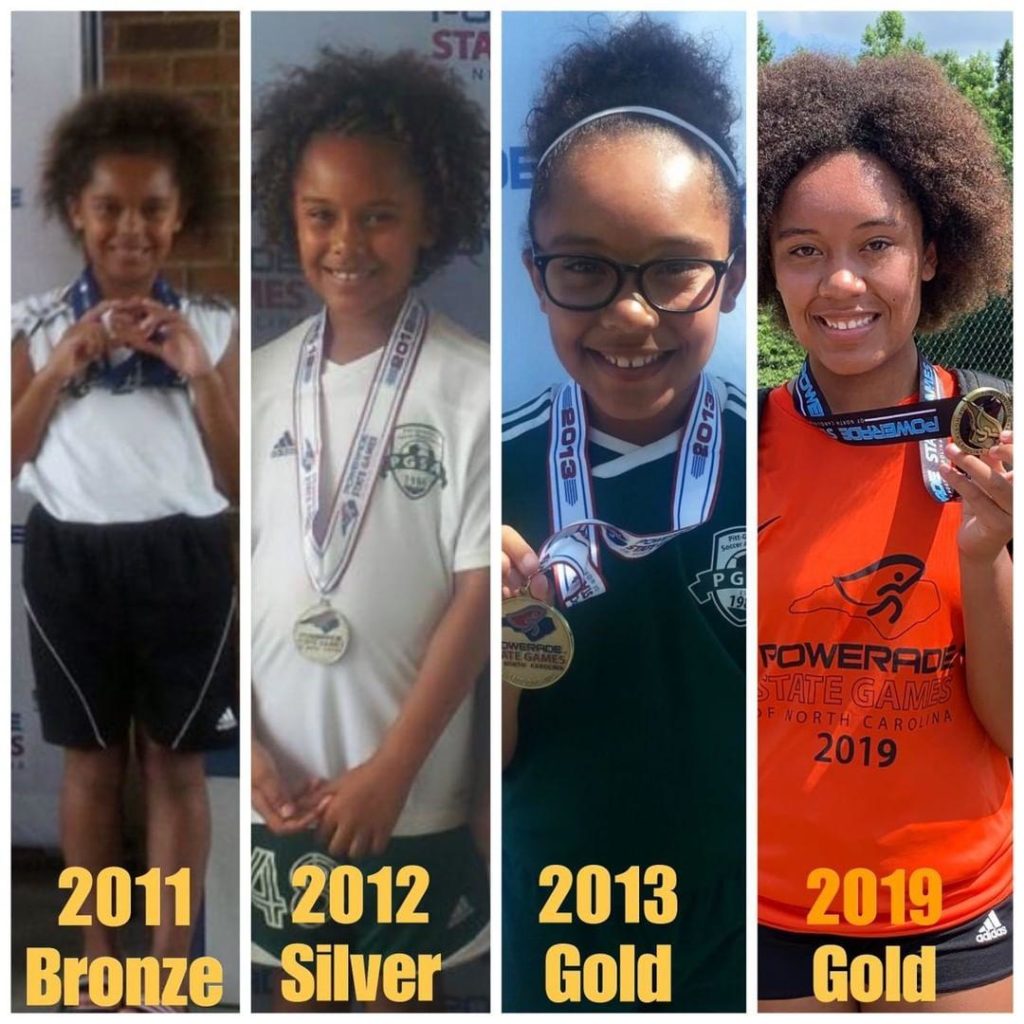 Taryn Thompson has played soccer in the Powerade State Games for several years. She competed in our Youth Soccer Tournament for three consecutive summers, earning Bronze, Silver & Gold. This past summer, Taryn earned a final roster spot in the Girl's High School Soccer Tournament. She was a member of the East team, who captured the Gold! Read more about her experiences and perspective on the Powerade State Games below.
When did you first start playing soccer?
I started playing soccer when I was just three years old. My first team was the Greenville Parks & Recreation Future Stars.
When did you first participate in the Powerade State Games, and what team were you on? How long did you play with that team?
My first Powerade State Games experience was in 2011, and my coaches created a team with girls from several different rec teams. I played with that team for about 3 more years (I think), but I still play with some of those same girls to this day! It was really the Powerade State Games that grew us as a team!
What is your general summary of experiences in youth soccer? In short, it has given me some of the best days of my youth!
Experiences in Powerade State Games youth soccer (what stands out or makes it different from other tournaments)?
When I was younger I remember it being exciting with all the festivities before the tournament started and the feeling of being really excited to play in the games. Each year we had a goal of placing to get the next medal (bronze, silver and gold) and we did just that! Now that I'm older it's still exciting, but in a different way, I was excited to play with and against girls from all over the state.
Thoughts on the High School tryout process? I was nervous about tryouts because I didn't know what to expect. They worked us hard while we were there and I could tell they expected a lot out of us, but it was still fun!
Did you know any other people from your High School team who tried out and/or played on the team in Powerade State Games? Nobody from my team, but I knew girls from other high schools and also recognized girls that I had played against before.
Thoughts on coaching in the state games? I loved my coach! Coach McGill made it fun and I learned a lot from him in a short time.
What did you hope to gain from participating? I'd hoped to learn more about soccer playing with different girls and coach.
Ambitions for soccer: I would love to play in college!
Favorite pro or college soccer team: UNC Women
Favorite sport other than soccer: Basketball
Academic/Career ambitions: I would like to be an Athletic Trainer
Any other interesting/noteworthy stuff people should know (academics, clubs, community service, etc.)? I am in the Health Sciences Academy, National Honor Society and very involved in Young Life.
What are your lasting impressions of the Powerade State Games? So much fun!
Why should other people should participate in the Powerade State Games? They will be memories that you'll never forget!