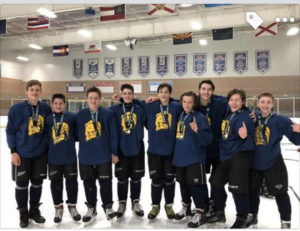 The 2019 Powerade State Games Youth Ice Hockey Tournament took place at Extreme Ice Center over the weekend of June 21st-23rd. The 14 and under age group was comprised of a five team pool with local participants and also athletes from Greensboro & Raleigh. Participating teams included the Charlotte Rush, Pineville Falcons, Triad
Storm, Gators, & Team Raleigh Wealth Solutions. We'd like to congratulate Team Raleigh Wealth Solutions for their success on the ice in prevailing with the Gold Medal!
Raleigh Wealth Solutions sponsored this team and emphasized the importance of teamwork as most critical to success. The team success stands out because the roster was a combination of players from two different teams put together for the sake of the tournament. According to Jill Raleigh, "Players were selected for Team RWS based on their work ethic, positive attitudes, character and athletic ability. The team was made up a mix of members, with about half with a 2005 birth year. It's an extra testament to those boys who were playing up against tough competition."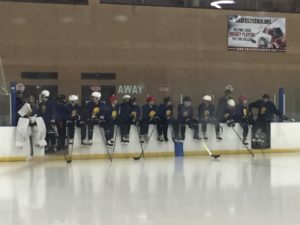 Before heading to Charlotte, the team needed a logo to place on jerseys to identify themselves. Jill noted that, "the Lion was chosen as the team logo used to represent strength, courage, justice and might. These are all characteristics that help athletes in hockey but more importantly in life. Lions face challenges head on and without fear."
The weekend of competition got underway for Team Raleigh Wealth Solutions with a Friday night game against the locally based, Pineville Falcons. Team RWS came out victorious by a score of eight to two. After a night of rest, the team faced a stiff challenge with Saturday's schedule. Their day began against the Triad Storm around 11am, a closely contested game. When time on the clock had expired, the scoreboard read four to three in favor of Team RWS. Two games – two wins, not too shabby.
Sunday morning began with the culminating pool play games, as Team Raleigh Wealth Solutions faced off with the Gators. Both of these teams entered the game sporting a 2-1 record, with a spot in the Gold Medal game on the line. Team Raleigh Wealth Solutions prevailed in a close contest, 2-1! This setup for an intriguing rematch with the Charlotte Rush, would Team RWS be able to get their revenge?
"The boys were encouraged to play with the heart of a lion and to come together as a team which is exactly what they did! They ended up winning the Gold medal game in the final minute of play against a team that had been together for an entire season and was nationally bound."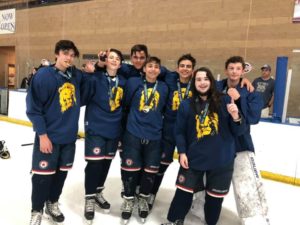 Team Raleigh Wealth Solutions won the rematch with the Charlotte Rush by a final score of 4 to 3. The game winning goal was scored in the final minute! It's clear these two teams matched up well and the competition was fierce.
"Team RWS not only never gave up, but they worked together to reach their goal and demonstrated a heart of a lion." Jill Raleigh added that "We believe in all of these young men and wish them the best of luck going forward!"
Game three of the tournament was against the #1 overall seed, the Charlotte Rush. The Rush entered the game well rested, and came out with a 5 to 3 win over Team Raleigh Wealth Solutions. The Charlotte Rush would go on to beat their other two opponents and finish pool play with an undefeated 4-0 record.