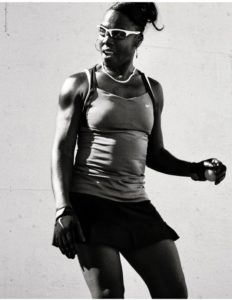 YoYo Monroe is an avid Pickleball player and quite an accomplished athlete. Her athletic journey was long devoted to the sport of handball, where she played internationally for several years. She was a member of Team USA and also traveled on the European Tour. The sport of handball led YoYo to travel to various states and countries for competitions including; France, Italy, Spain, Belgium, Holland, Canada, and Ireland (where she won a world gold medal). She was one of the top-ranked female handball players in the USA for many years! In international competition, YoYo defeated the number #1 female on tour several times both in doubles and singles play. During her handball playing career, YoYo has won 16 gold medals as well as two world gold medals! She had a signature shot which they named after her, the 'YoYoFlatline'. "If my arm cocked back, forget it the ball was put away."
"I started playing handball at a young age. Playing against a concrete wall anywhere, any time and devoting several hours a day to perfect my game." In the sport, there was both individual play as well as team play (doubles and mixed doubles). There was no seeding by age, rather all seeding in handball was just based on skill.
"The biggest tournament held in the states for handball was in Orange County, California at Los Caballeros. Naty Alvarado, arguably the most accomplished men's handball player, hosted the event. I enjoyed this the best out of all the tournaments. I wanted the sport to go to the Olympics, but this was to no avail. I was invited to do exhibition games for people with an interest in the sport, but still nothing came of it."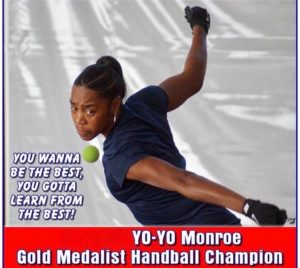 "Sadly, I felt I was getting too old. After many years, I started to grow weary of handball due to longevity and my interest span was fading for the game. I was told by a woman one day as we held discussion that when an athlete has reached their peak in a sport and they could go no higher without change it was time to find another sport. I did not allow her words to fall on deaf ears, so change it was."
"I first heard of Pickleball at a place where I used to assist with tournaments and teach players the game of handball. It was at this location where I originally saw the game being played. I liked watching pickleball because it was played almost like being on top of a big ping pong table. It also looked like a short game of tennis. It grabbed my attention and peaked my interest as the players seemed to be happy on the court and expressed a genuine love for the game!"
Within weeks of her conversation about needing to find another sport, Yolanda's husband Kevin was deployed to Bellevue, Nebraska at Offutt Air Force Base. While living in Nebraska, she and her husband would play 4 wall handball with some of the retired military officers at the DoD facility. "One day, I finally decided that change was needed and I was going to pursue the sport of Pickleball. My husband and I went to Dick's Sporting Goods and purchased 2 wooden pickleball paddles and balls."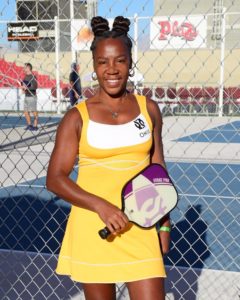 The two of them went back to the facility and started to play what they believed to be the sport of pickleball on a tennis half court. "A comrade walked by and asked if we were playing pickleball. When I replied that we were, he informed us that we were playing the game incorrectly. To our embarrassment he walked over and said "if you want to know how pickleball is played, come to the senior center in Omaha." We wasted no time. We visited the next morning before Kevin was due to the base. We got beat so bad by these seniors we were perplexed and left asking ourselves what's going on. I don't take defeat well when I know I haven't learned the game. So afterwards we practiced for four days consistently with about three full hours of drills per day. Returning to the site of our beat down, we wanted to show off what we learned against our previous opponents. They were impressed and we joined them daily to play. I was totally addicted to the sport."
Make no doubt about it, Yolanda is all-in on Pickleball. While she transitioned to the sport just shy of two years ago, she's been asked by several people if she wishes to be pro in Pickleball. "Coming from 38 years of professional handball, I think I would probably not. I'll never dismiss the idea, but its hard work being a pro."
"While I played handball [for many years], I watched plenty of tennis to incorporate the style into my game of pickleball. I love pickleball because it's a social sport. The players are amazing and different." In addition to the camaraderie shared between the players, Yolanda greatly enjoys the increased travel destinations and tournament opportunities that the sport of Pickleball affords. She added that sometimes "you don't know who's coming to play" and that can make it all the more intriguing to attend new tournaments.
She played in her first senior state tourney after only two months and earned three medals (two gold & a bronze). The addiction was real. After only eight months of playing the game, Yolanda was offered the opportunity to become an ambassador for the sport of Pickleball. Three months after that came a sponsorship offer from Onix. In less than a year, YoYo had become a sponsored player & ambassador for a sport which she had never played before.
"My husband was deployed overseas to Kuwait in January of 2018. He told me to play as much pickleball as I could to get my mind off things, so that's exactly what I did. I traveled to 28 states (NC three times) and played in between 36 and 40 tournaments (including the Powerade State Games)." She won Bronze in mixed competition at the US Open Pickleball championships in Naples, FL. She followed that up by winning the Gold in singles at the Nationals in Palm Springs, CA at Indian Wells. "I was given a challenge as a new person to the sport to win 100 medals. I won 100 medals in one year from January 2018 through January 2019." She won the 99th & 100th medals while competing in California at the Tustin Pickleball Classic.
"I really enjoy being an athlete and I love <3 pickleball. I can thank my hubby Kevin who pressed me to play one tourney and I've been hooked ever since. I'm looking forward to playing in the Powerade State Games again in June 2019 to go for another Gold medal! I look forward to seeing everyone at the Powerade State Games in June!"
YoYo Monroe will be returning to the Powerade State Games this June with plans to claim another gold medal. She will also be attending the Senior National Games in New Mexico the week after the Powerade State Games where she has qualified for all three categories of the competition and will compete in mixed, doubles and singles play.